Call For A Free Quotation
📞07743889468
Who We Are
JMC Roofing Leeds: The Reliable Expert for All Your Roofing Needs
JMC Roofing Leeds is a committed provider of quality roofing services. With a focus on delivering the best results for our clients, we offer a full range of roofing solutions including new roofs, roof repairs, slate and tiled roofs, guttering, fascias, soffits, re-roofing, flat roof, rubber roof and cladding. Our goal is to exceed expectations and provide unparalleled service in the roofing industry.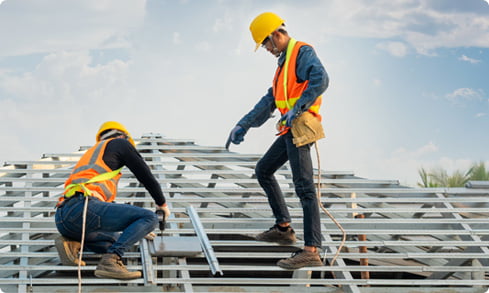 Company Promotinal Video JMC Roofing Leeds
JMC Roofing Leeds Company Promotional Video showcases our expertise, professionalism, and commitment to providing exceptional roofing services. Watch our video to learn more about how we can help with your roofing needs.
Call For A Free Quotation
📞07743889468
Happy Customers
At JMC Roofing Leeds, customer satisfaction is our top priority. We take pride in providing high-quality roofing services to our clients and ensuring that their needs are met. Our team of experienced professionals works closely with customers to understand their requirements and provide tailored solutions that exceed their expectations. Our commitment to excellence has earned us many satisfied customers who are happy to recommend us to others. When you choose JMC Roofing, you can trust us to deliver outstanding results and leave you with a smile on your face.
Work Gallery
The Work Gallery is the place to be if you want to see examples of our completed projects. At JMC Roofing, we take great pride in our work and always strive for the highest standards of quality. Check out our Work Gallery for some inspiring examples of our roofing solutions
Certified & Insured
JMC Roofing Leeds is a fully certified and insured roofing company, with liability insurance and a registered business. They pride themselves on having fully trained employees to ensure that every project is completed to the highest standard. With JMC Roofing, customers can have peace of mind knowing that they are working with a reputable and professional roofing company that takes their work seriously.
JMC Work Team
JMC Roofing Leeds takes great pride in their work team, consisting of skilled professionals who are passionate about their craft. With years of experience and training, the team is committed to providing quality workmanship and exceptional customer service. From initial consultation to project completion, JMC's work team is dedicated to ensuring that every client receives the best possible experience. Trust in JMC's work team for all your roofing needs.